Titanic Alley was an early 20th century neighborhood in Columbia, SC, located between Main and Sumter Streets two blocks north of Elmwood Avenue. It was the home of the Titanic Apartments, a complex of closely-packed tenement-style homes.
Sanborn Insurance maps from the period show Titanic Alley was part of a community of homes, churches and businesses serving African Americans in segregated Columbia. Census records from 1930 list the residents of the Titanic Apartments – multiple families and apparently single women working in domestic service and trades.
Little else is known about Titanic Alley or its inhabitants. The apartments and neighborhood around them had mostly disappeared by the 1950s when a Cadillac dealership was built over the site. All that remains is the evocative name "Titanic Alley" on a yellowed map.
Here are some questions for which we would love to find answers:
How did Titanic Alley get its name? Was it in any way connected to the famous ship disaster?
What did the neighborhood and the apartments look like? No photographs are known to exist.
What was life like in Titanic Alley?
Anyone with information about Titanic Alley or the Titanic Apartments, please send a message through our Contact page.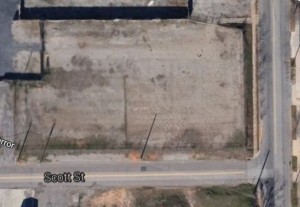 A vague footprint remains where Titanic Alley once stood. Image courtesy Google Maps.